Digital FM Radio and
Bluetooth Streaming
One module -
Endless projects.
TIMBERtune™
is a beautiful and simple, yet full-featured FM radio module for your DIY audio project, which not only sounds and looks good, but also feels good.
Thanks to integrated Bluetooth, your music selection is not limited to local radio stations only. Stream music and online radio stations wirelessly from your phone, tablet or computer to your TIMBERtune™.
Although it is powered by great technology, it is designed for usability.
•  Auto-tuning (scan up/down)
•  5 station preset memory
•  Totally embedded (invisible) antenna
• aptX™ Bluetooth audio technology for premium wireless audio quality
•  ~30 ft range (depending on environment)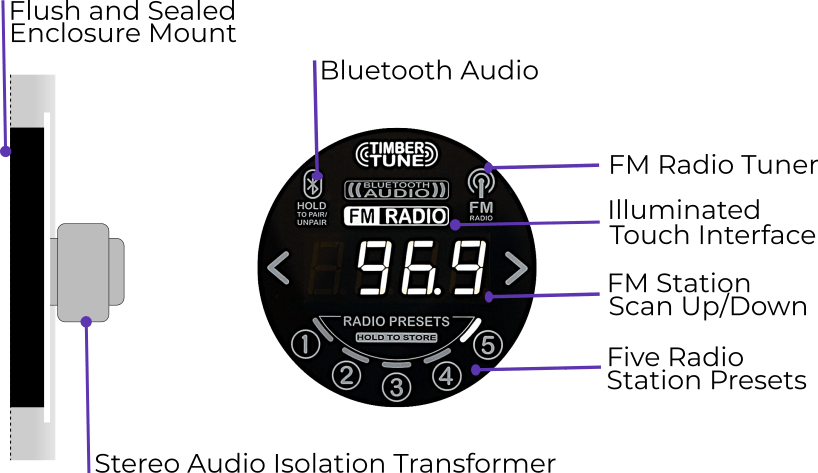 •  Easy touch operation
•  White LED backlight
•  Seamless & flush surface for a unique look
•  Suitable for sealed enclosures
•  Stereo isolated line-level output to eliminate ground loop noise
•  3.5 mm stereo audio jack
•  3-pin JST audio header
Using TIMBERtune™ is easy and intuitive.
No manual needed – just enjoy the music.
What are you making today?
Whether you build your own retro style FM radio,
modern high-end speakers,
or any piece of audio equipment you can think of,
TIMBERtune™ 
adds unique style, functionality
and audio performance to any project you tackle.
So what's your plan?
Start Your Next Project Today!